For those who weren't aware, there were Flintstones cards back in the 1990's. This is card #100 from the 1993 Cardz Flintstones set… and yes, it's "Gazoo", not "Kazoo" or "Gadzoo".

If you're wondering why I suddenly got belligerent and started calling my readers juvenile names, "Hello, Dum-Dums" was sort of Gazoo's catch phrase.
…And for those who may not have known this, Gazoo was voiced by the late, great Harvey Korman.
Y'know what?  As long as we're discussing the Flintstones, I'll throw another scan in here.  This card features The Way-Outs, who were a pop band posing as aliens… which probably fit right in with a general "What planet did these Beatles come from?" vibe of the times.
The character on the right was clearly a celebrity guest since he's drawn realistically, but I can't remember (nor Google) who he was.
Gonna go way out
WAAAAAAAAY OUT!
That's where the fun is, way out
WAAAAAAAAY OUT!
---
I don't remember how I came to own this 1996/97 Pinnacle McDonald's Hockey card of Keith Tkachuk… but it's 3-D! Gotta love 3-D!


I also really liked those "Peyote Coyote" uniforms, especially compared to the boring unis they wear now.
---
I ran across this card a couple of weeks ago while shopping on COMC. It's a checklist card from 1991 Topps Micro.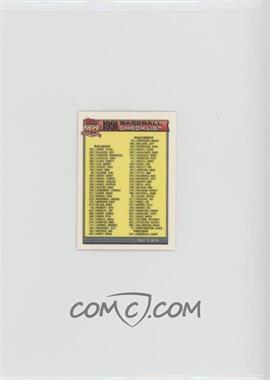 …And I ask you… Is there anything in this great hobby of ours which is so completely and utterly pointless as a 'Micro' checklist?
---
I've got a backlog of these 2018 scans comparing flagship to Opening Day or Chrome, so I feel I should get another one in here… That's Series 2 on the left, Chrome on the right.
---
I'm going to wrap up by teasing two upcoming posts…
Tease #1
I found this MLB Showdown card in a dime box two years ago, and now that Roy Halladay is a HOFer, this card might be worth TEN TIMES THAT! Woooo!


…but that's not why I'm posting this here.
One of the reasons I'm taking the easy way out with this post is because I'm working on a post about MLB Showdown, and I will be diving in a little deeper than "Fun oddballs I love to pull from dime boxes" (as true as that statement may be).
---
Tease #2
I completed my 1977 Topps baseball set decades ago, but I recently made an impulse buy of this O-Pee-Chee Dave Kingman card. I normally don't buy OPC cards which are little more than French-language parallels to Topps cards, but because O-Pee-Chee didn't include the "N.L. All-Stars" banner on the bottom of this card, you can see Dave Kingman's knees.  Ooooh…


The reason this is a tease is because I'm finishing work on a belated "Looking back at 2018 and looking forward to 2019" post, and one of the things I'll be wandering in circles muttering about is whether I need to give more thought to which cards I acquire, as well as which cards I should give a pass. This card might just fall into the "take a pass" category, but that doesn't mean I'm going to get rid of it.
One project I'm working on that is likely to survive the upcoming "Great Prioritization" is the 1957 Topps Orioles team set. Even if I didn't have this project, this next card would be a target of mine just because I enjoy cards which feature the original Yankee Stadium.


Don Ferrarese was a journeyman swingman who pitched for five teams over an eight-year career. On his final three Topps cards (1960 – 1962) he went capless, airbrushed and capless.
…And that concludes another meandering "Show & Tell" post!