I've  been trying to get back to some of my neglected recurring series, I haven't done one of these Random Team Reviews since August… Plus I have fun creating them.  Hopefully that comes across enough that you enjoy reading them.
Confession: This team set wasn't truly random… I looked for a set I haven't done yet, and came up with 1977… Then I looked at the teams I hadn't done yet and realized I've yet to do a team from the National League West, so I chose randomly from the six 1977 NL West teams.
Under manager Joe Altobelli, the 1977 Giants went 75-87 and finished 4th in the NL, 23 games behind the eventual NL Champion Dodgers. It was Altobelli's first year as manager of the Giants, after replacing Bill Rigney.

Best Position Player
After three years in exile with The Padres (almost "Washington Nat' Lea") and briefly with the A's, Willie McCovey became a free agent and went back to Candlestick.
The 39-year-old lead the team in Homers (28), RBI (86), OBP (.367) and Slugging (.500).

Best Pitcher
6'7″ Ed Halicki went 16-12 with a 3.32 ERA. He lead team in wins, Innings pitched and strikeouts, plus was second in WHIP (not that anybody talked about WHIP in 1977). He pitched 7 complete games and had two shutouts.  Halicki no-hit the Mets in 1975.

Highest-valued card: #476 Rookie Catchers
Giants rookie Gary Alexander shares a card with two-time MVP Dale Murphy.  Alexander would play in 432 games, mostly as a catcher or DH, for the Giants, Indians, A's and Pirates between 1975 and 1981.


Here's a number for you… Gary Alexander lead the American League with 166 strikeouts in 1979.  This past season Yoan Moncada lead the Majors with 217.
Best Giants Rookie Card: #488 Jack Clark
As far as I'm concerned, this is a Mets card and the Lee Mazzilli rookie card.


Jack Clark was a four-time All-Star (twice with the Giants, twice with the Cardinals) and in 1987 he lead the league with a .597 On-Base Percentage (aided by also leading the league with 136 walks)
Best 1977 Giants player without a 1977 Card
Bob Knepper went 11-9, 3.36 in his rookie season. He wouldn't get a rookie card until 1978 Topps, but he appeared on several Cramer Pacific Coast League cards (more on these in a moment).

Best on-field shot
Hiding behind Joe Ferguson didn't work for Bobby Murcer, as he was traded to the Cubs in February, 1977.  Ferguson was also traded in the offseason, and both players had glorious airbrush jobs in 1977 O-Pee-Chee (which was issued later than 1977 Topps).

Most notable Airbrushing
John Curtis was acquired from the Cardinals in an October trade which kept the Topps airbrush artists busy.


Other players in this trade who got airbrushed were Willie Crawford, Mike Caldwell, Dave Rader and the exceptionally-airbrushed John D'Acquisto card (go look it up if you haven't already said "Oh, yeah" and nodded approvingly)
Favorite Card
I thought about going with Murcer for the Favorite Card, but decided to keep it as a separate category and insert Ken Reitz in here. I've always liked photos which include the batting cage, plus Ken looks like he really enjoys being on this baseball card.

Guy With A Rookie Cup
I think of Larry Herndon with the Giants and Tigers, but I hadn't realized it until I'd looked up Larry Herndon's Baseball Reference page, but he made his MLB debut as a September callup with the Cardinals in 1974. What earned him his Rookie Cup in 1976 was batting .288 with 42 runs and 23 RBI.


As a little "You learn something new every day" addendum to Herndon's card: The 1975 trade which sent Herndon to San Francisco sent pitcher Ron Bryant to the Cardinals. If, like me, you don't remember Ron Bryant with the Cards, that's because he pitched only 8.2 innings over 10 games, went 0-1 and had a 16.62 ERA and a 3.115 WHIP. OUCH!!! Bryant's 1975 card (which showed him with the Giants) would be his last card.
The Player With the Best Sister
If you're not familiar with Randy Moffitt's sister, she's none other than tennis legend Billie Jean King, who ranked #1 six times and won 39 Grand Slam titles.
Randy Moffitt was a reliever who spent most of his career with the Giants. In 1977 he had a 3.59 ERA, 11 saves and averaged 7.0 strikeouts per 9 innings pitched.

Best Name, Best Nickname
John "The Count" Montefusco was the 1975 N.L. Rookie of the Year and an All-Star in 1976, but was slowed down by arm injuries after that.  In 1977 he went 7-12, 3.49 with 4 complete games

Best Name (Without a Topps Card)
The best name on this team easily goes to Thomas Howard Toms, who was commonly known as Tommy Toms.  He pitched relief in four games for the 1977 Giants and ended up with an 0-1 record with a 2.08 ERA. 1977 was his final season in the Majors and in the Giants organization. He played for three different AAA teams in 1978 to end his career.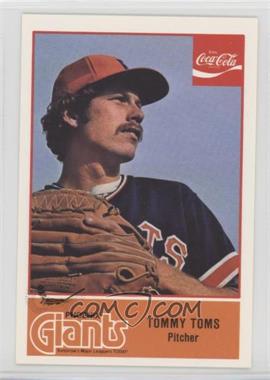 I've been growing intrigued by the minor league sets issued by Cramer Sports Promotions in the 1970's. Mike Cramer was involved in a number of AAA Pacific Coast League team sets from 1976 to 1979, and while minor league sets were unusual enough for the time, these sets were in color. Cramer Sports Productions would become Pacific Trading Cards, which would make Baseball Legends sets, sets dedicated to Steve Largent, Tom Seaver and Nolan Ryan and ultimately would make MLB, NFL and NHL sets through the 1990's and into the early 21st century… but these sets are where it all started. I just bought a different Cramer PCL Tommy Toms card from COMC, and will share that will everybody once the card arrives (which will be a while because I've only got 7 cards to ship right now).
OK, end of side trip… let's wrap things up with the last two categories…
Best Cartoon: John Montefusco
I'll bet Freddie Patek appreciated the heck out of this one…

Bonus O-Pee-Chee Card: Bill Madlock
Bill Madlock's 1977 Topps card showed him with the Cubs, but he went to San Francisco in a February trade that saw Bobby Murcer and Steve Ontiveros going to the North Side of Chicago.  Had this been a Topps card, it would've easily beaten out John Curtis for "Most Notable Airbrushing" honors.

Update: After I pressed "Publish" on this post, I realized that tomorrow (3/8/19) is the 2nd anniversary of the first post in this series. Had I realized that, I might've held this off for a day.  Oh well, this blog is just a never-ending series of missed opportunities.
Click on the "Random Team" tag at the bottom of this post to see all of the Random Team Reviews!